ELECTRIC POWER DIVISION
변압기 무선부하 감시시스템(DTMS), 고장전류경로감시 시스템(FPI), POWER CT
Distribution Transformer Monitoring System is the effective monitoring system that measures the status of current, voltage, load ratio Oil temperature, Oil level, Effective/Reactive power, Power factor, Neutral current of the transformer, Harmonics of voltage and current. After that It sends data to the server via a wireless network, a manager could be improved the power quality by managing of data through the internet.
This system send SMS message to manager when the parameter exceeds alarm preset automatically.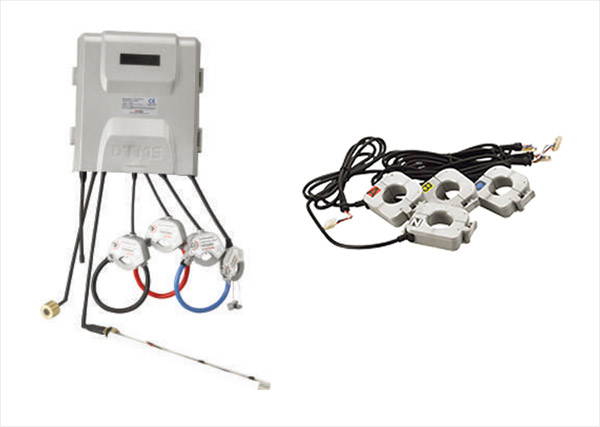 This device is a real-time measurement of transformer status and wireless communication (GPRS modem, RF modem) to use, and then sent to the server through the internet, and alert send to operating cetner Web Server or SCADA and worker's cell phone. It is designed that accommodate ever-increasing network strains, the DTMS addresses all potential distribution transformer failure modes and detects early warning signs of asset deterioration.
Remote monitoring of voltage, current, temperature of each phase, oil aging, oil level and Etc.
Alarm over-voltage, over-current, overload and Etc.
Hourly Trend graph display and Report print
Probe
Measurement : Current and voltage at the same time
Wire length :< 1.8M
Voltage range : 0V ~ 300V D. Current range : 0A ~ 1,000A
Size : 84W × 68H × 27D mm(inner diameter 35mm/90mm)
Weight :250g / ea G. Accuracy : Class Ⅰ(±1%)
Temperature sensor
Supply Voltage : 3 ~ 3.3[V] B. Output Current : 10[mA]
Temperature Range : -40℃ ~ +125℃
Accuracy : -40℃ ~ +125℃ : ±4.0℃(max)
Temperature Slope : +6.25[mV]/℃
Output Impedance : 800Ω(max)
Storage Temp : -65℃ ~ 150℃
Oil Level
Sensing : using LED & Photo diode in order to analyze reflection and diffraction of light
Wavelength of light source : Max : 635nm, Min 720mcd
Oil aging
Serial I/F : 9600bps, 8bit, 1 stop bit no parity
1~5 : New oil 6~10 : Used oil 11~15 : Waste oil
GPRS Modem (1.8Ghz, 19,200bps)
Power connector : RJ11 6-way
Input voltage range : 5 – 36V DC
Nominal Voltage : 12V DC
Power consumption : 5V 0,0075mA / 12V 0,520mA / 24V 1,770mA /32V 2,580mA
USB connector : max. voltage 30V, Low level 0 ~ 1V, High Level 4 ~ 30V
Antenna : Omnidirectional GSM 850 / 900Mhz, GSM 1800 /1900Mhz Impedance 50Ω
RF Modem
Frequency range : 424,000 ~ 424,950㎑
Channel space : 12.5㎑ C. Channel : 21 channel
Oscillating method : PLL( Phase Lock Loop)
Transmit speed : 1,200bps
Antenna : Amnidirectional
Data relay function : By pass
Battery
Lithium-ion, rechargeable
EMC
EN 301 489-1 , EN 301 489-3
Overall size of equipment
(W x D x H) 240 mm x 220 mm x 85 mm

Preventing firing damage and spouting troubles of OT from an overload and unbalanced phase of distribution transformer.
Improve revenue protection by detecting signs of illegal activity using abnormal load patterns, or consumer's meters against DTMS's kWHr readings
Improve outage management and pre-empt customer issues as you shorten fault isolation time, and set transformer alarms for temperature, overload, and voltage
Distribution Transformer Monitoring System is the effective monitoring system that measures the status of current, voltage, load ratio Oil temperature, Oil level, Effective/Reactive power, Power factor, Neutral current of the transformer, Harmonics of voltage and current. After that It sends data to the server via a wireless network, a manager could be improved the power quality by managing of data through the internet.
This system send SMS message to manager when the parameter exceeds alarm preset automatically.

This device is a real-time measurement of transformer status and wireless communication (GPRS modem, RF modem) to use, and then sent to the server through the internet, and alert send to operating cetner Web Server or SCADA and worker's cell phone. It is designed that accommodate ever-increasing network strains, the DTMS addresses all potential distribution transformer failure modes and detects early warning signs of asset deterioration.

Remote monitoring of voltage, current, temperature of each phase, oil aging, oil level and Etc.
Alarm over-voltage, over-current, overload and Etc.
Hourly Trend graph display and Report print

Probe

Measurement : Current and voltage at the same time
Wire length :< 1.8M
Voltage range : 0V ~ 300V D. Current range : 0A ~ 1,000A
Size : 84W × 68H × 27D mm(inner diameter 35mm/90mm)
Weight :250g / ea G. Accuracy : Class Ⅰ(±1%)

Temperature sensor

Supply Voltage : 3 ~ 3.3[V] B. Output Current : 10[mA]
Temperature Range : -40℃ ~ +125℃
Accuracy : -40℃ ~ +125℃ : ±4.0℃(max)
Temperature Slope : +6.25[mV]/℃
Output Impedance : 800Ω(max)
Storage Temp : -65℃ ~ 150℃

Oil Level

Sensing : using LED & Photo diode in order to analyze reflection and diffraction of light
Wavelength of light source : Max : 635nm, Min 720mcd

Oil aging

Serial I/F : 9600bps, 8bit, 1 stop bit no parity
1~5 : New oil 6~10 : Used oil 11~15 : Waste oil

GPRS Modem (1.8Ghz, 19,200bps)

Power connector : RJ11 6-way
Input voltage range : 5 – 36V DC
Nominal Voltage : 12V DC
Power consumption : 5V 0,0075mA / 12V 0,520mA / 24V 1,770mA /32V 2,580mA
USB connector : max. voltage 30V, Low level 0 ~ 1V, High Level 4 ~ 30V
Antenna : Omnidirectional GSM 850 / 900Mhz, GSM 1800 /1900Mhz Impedance 50Ω

RF Modem

Frequency range : 424,000 ~ 424,950㎑
Channel space : 12.5㎑ C. Channel : 21 channel
Oscillating method : PLL( Phase Lock Loop)
Transmit speed : 1,200bps
Antenna : Amnidirectional
Data relay function : By pass

Battery

Lithium-ion, rechargeable

EMC

EN 301 489-1 , EN 301 489-3

Overall size of equipment

(W x D x H) 240 mm x 220 mm x 85 mm

Preventing firing damage and spouting troubles of OT from an overload and unbalanced phase of distribution transformer.
Improve revenue protection by detecting signs of illegal activity using abnormal load patterns, or consumer's meters against DTMS's kWHr readings
Improve outage management and pre-empt customer issues as you shorten fault isolation time, and set transformer alarms for temperature, overload, and voltage